Advanced Partitioning Solutions has been established for over 30 years and we have specialist experience in the installation of many types of office partitioning and suspended ceilings around the country. We also have our own team of highly experienced installers ready to take on any job.
During this time we have built up a very loyal client base with repeat business due to our quality workmanship and we go nationwide with them.
Our services are designed for commercial environments, including office refurbishments, complete office fit outs, clean rooms for blue chip companies and pharmaceutical companies.
With every project, from office refurbishments to complete new office fit-out installations and clean rooms, we work closely with our clients and strive to deliver on time, on budget and to the highest possible standards.
THE COMPLETE PARTITIONING AND SUSPENDED CEILING SERVICE INCLUDING:
Office Reconfiguration
Office Refurbishment
Reception Areas
Commercial Refurbishment
Boardrooms, Meeting Rooms
Schools, Colleges, Universities
Warehouses
Factories
Healthcare, Clean Rooms
Toilets, Washrooms
Shopfitting
Supermarkets
Food Prep Areas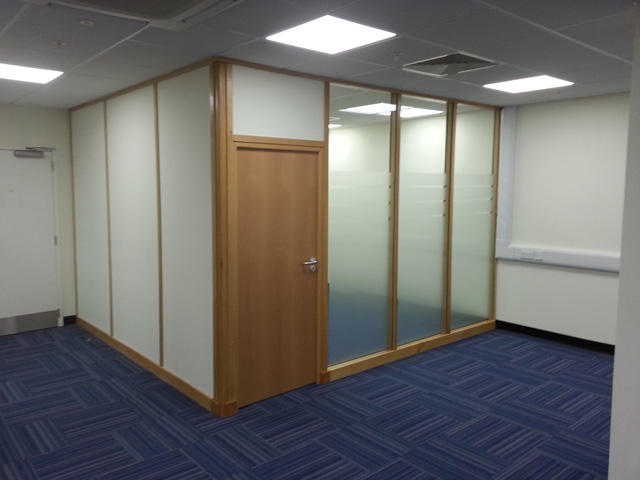 Solid and full height double glazed oak timber partitioning system complete with oak veneer doors and manifestation details.
600mm x 600mm exposed grid suspended ceiling system complete with mineral fibre tiles.